Firewood
Local Firewood
We sell firewood locally harvested from Tucson area backyards. Using local sourced firewood, rather than wood cut and trucked in from other towns or forests, helps prevent the spread of invasive insects. Local firewood is sustainable. An abundant supply comes from local Tucson homes and businesses, as owners have us maintain and sometimes remove their trees.
You can find bundled firewood from Romeo Tree Service at both Tucson Whole Foods Market locations (while in season).

Fuel from Your Tree
If we are removing your tree, why not turn it into usable firewood? Let Romeo Tree Service efficiently cut and split your firewood onsite. Our firewood services turn your bulky discarded tree limbs and trunks, into useable firewood. Perfectly sized fuel for stoves, outdoor fire pits, or indoor fireplaces.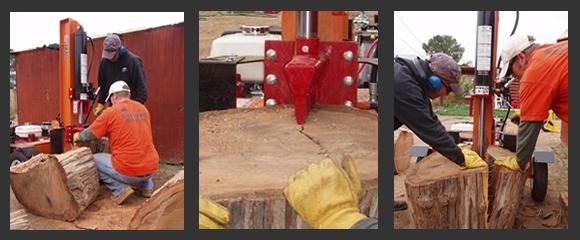 Did you or someone besides Romeo Tree Service cut down your tree? We're glad to come out and split your downed tree material into firewood on site, no matter how large. If there's more than you want to keep, we can haul away the surplus. Contact us to quote your specific project needs.