Includes Delivery!
Romeo Tree Service mulch is organic in that it comes from trees rather than inorganic like rocks or ground tire. The trees your mulch comes from may or may not have been treated by organic or non organic controls at one time.  All Romeo Tree Service mulch is 1" to 3" chips, comes in truckloads of one to three cubic yards and is a byproduct of our local Tucson tree service.
Why Mulch?
* Maintain soil moisture reducing the need to water * Weed control * Adds nutrients to the soil * Improves soil aeration and drainage over time * Keeps soil cool in summer and warm in winter.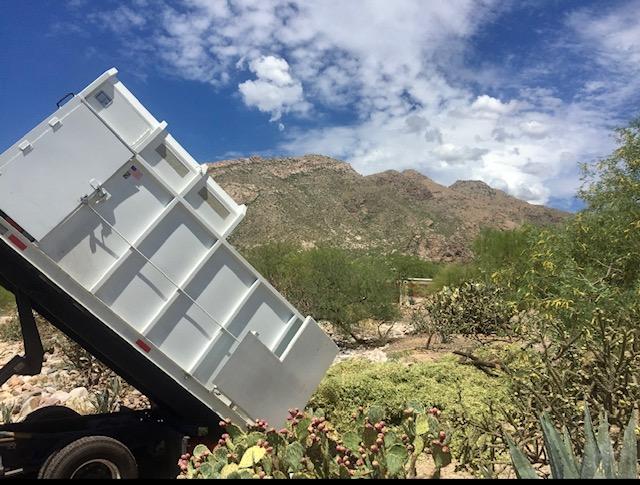 How to Mulch
* Place 2″ to 4″ of mulch on top of soil all the way to the tree's drip line. * Do not place mulch against the tree's trunk. * Do not mix mulch into the soil. * Mulch wide, not deep * Mulching over the tree's entire root system is best, when possible. This usually extends well beyond the drip line. This mulch is intended primarily for gardens and tree beds. It may contain thorns and should be handled with the proper tools and attire. This mulch is not intended for pets or children,therefore; it should not be used as a substitute for a safety cushion or as a playground covering. By clicking "Send request", you agree to hold harmless Romeo Tree Service and its affiliates from any injury or damage associated with the mulch including, but not limited to, injury and/or damage from insects, thorns or fire.
Learn how to properly care for your Mesquites and Palo Verdes. Angelo Romeo is the author of the DVD Mesquites & Palo Verdes: A Home Owner's Guide
Mulch Request Form
Fill out the form below to request free mulch.
Free mulch is on a convenience basis.
We do not guarantee after filling out this form, that you will receive our free mulch.
We kindly request you do not call the office to inquire about your placement on the list.
WARNING: Mulch may contain thorns and splinters and should not be used where children might play. Use proper protective clothing and boots when handling.
ATTENTION:  If you no longer wish to receive anymore mulch then resubmit this mulch request form by entering your name then the word "Cancel" in the other REQUIRED boxes or you might receive more mulch than you want.
Your cooperation is appreciated.